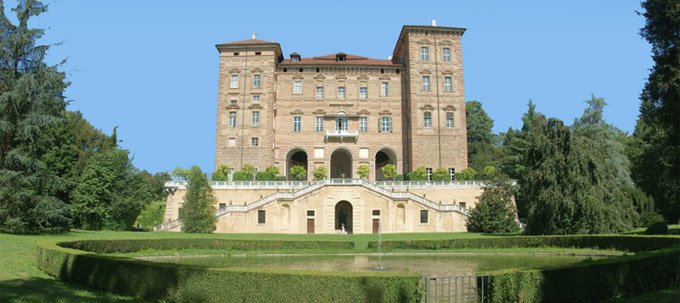 Agliè already existed in Roman times, probably where the hamlet of Madonna delle Grazie is located today. The current location of the village dates back to the medieval period, when the inhabitants, for safety reasons, settled under the walls of the Castle of the Counts of San Martino.
It seems that the name of the village derives from Alladium or from Ala Dei (from the wing shape explained to the east of the plan of the Castle).
The Castle, born as a defensive fortress in the 12th century, was transformed from 1650, at the wish of Filippo di San Martino d'Agliè and later with other renovations, into the magnificent residence used by the Savoys until 1939 when it was sold to the Italian State.
The park of the Castle is very large, crossed by 7 km of paths and paths and decorated with century-old trees, fountains and sculptures, among which the Esedra stands out with the statues of the Po, the Orco, Malone and Dora Baltea streams; The Italian Garden is also beautiful (in the right season), the Church of Santa Marta, a jewel of baroque art built in 1760 to a design by Costanzo Michela, famous for the curved lines of its outer perimeter, the triangular bell tower, the very original interior plan reminiscent of a lady of the eighteenth century, for the equally original stuccoes of the interior among the most graceful throughout the eighteenth century Piedmontese.
Villa Meleto, located a couple of km from the village, is the home of the twilight poet Guido Gozzano; the current owners have created a small museum with travel memories in the house; the small living room of grandmother Speranza and other things that recall the poet.
Worth a visit is the Parish Church with an altar by Juvarra; the Church of San Gaudenzio where the poet Guido Gozzano is buried; the small Church of Sant'Anna dating back to 1650 and in the hamlets the Church of Madonna delle Grazie, designed by Costanzo Michela, known as "I tre Cioché", because it is adorned with two bell towers and a cusp; the Sanctuary of Santa Maria della Rotonda, with a circular plan, probably built on a Roman temple dedicated to Diana.
Agliè also offers other enchanting views such as the ancient arcades of the centre and the streets of the village or the silence and greenery of the little lake of Gerbola and the walks around the surrounding wall of the park.
(from the website of the Pro Loco of Agliè, for further information you can contact the Pro Loco Tel. 0124 330335 – E-Mail: info@prolocoaglie.it – Site: www.prolocoaglie.it)